The 2019–20 Australian bushfire season began in June 2019. Hundreds of fires have been or still are burning.

As of 14 January 2020, fires this season have burnt an estimated 18.6 million hectares (46 million acres; 186,000 square kilometers; 72,000 square miles), destroyed over 5,900 buildings (including 2,779 homes) and killed at least 34 people. An estimated one billion animals have been killed and some endangered species may be driven to extinction.
NASA estimated that the number of dead koalas could be as high as 25,000.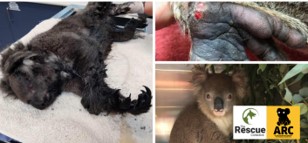 While the full extent of the current bushfires is yet to be measured, there have been a number of large scale bushfires recorded in Australian history.
The Orroral Valley Fire viewed from Tuggeranong in southern Canberra
Australians rescued lots of wild animals but the burnt land needs quite a long time to recover from the bushfire.
There is nothing for surviving animals to eat, no insects, no grass, no water.
The worldwide donation to Australia consists of various things.
The hay
The water
The food
And our AEOLUS ICUs!
For what animals will Australians use these ICUs?

You must think the answer is Koalas.
But it is not the whole answer.
The ICUs are not only for Koalas, but also for Bats.
Everyone knows it is a difficult mission to feed the animals, especially the endangered species.
But the most difficult and longest mission is to reconstruct the ecosystem.
An efficient ecosystem needs various animals that play parts in the system.
So Australians are trying to save bats, birds, goat, etc and hope that they can help to recover the ecosystem.

Pets and animals are our friends, because they are parts of the ecosystem where we live in.
More photos and videos from website.